An incorrect lifestyle, hectic work schedule, unhealthy eating habits, or higher stress are a few reasons that may contribute to the belly fat that one might want to lose. Taking yoga to help reduce belly fat is one of the best decisions.
For ages, we are witnessing that we don't only use yoga to reduce belly fat. Still, it has several passive benefits, like balancing metabolism, improved respiration and body energy, and increased flexibility.
There are several types of yoga to reduce belly fat, so here we are with some yoga asanas images that will help you maintain the correct posture during yoga.
1. Adho Mukha Svanasana (Downward-Facing Dog)
The Downward facing dog or Adho Mukha Svanasana will keep your abdominal muscles engaged, and also this asana will help boost your metabolism.
If you are using this yoga to reduce belly fat and have back pain keep a check on that as well, you might forget you ever had back pain.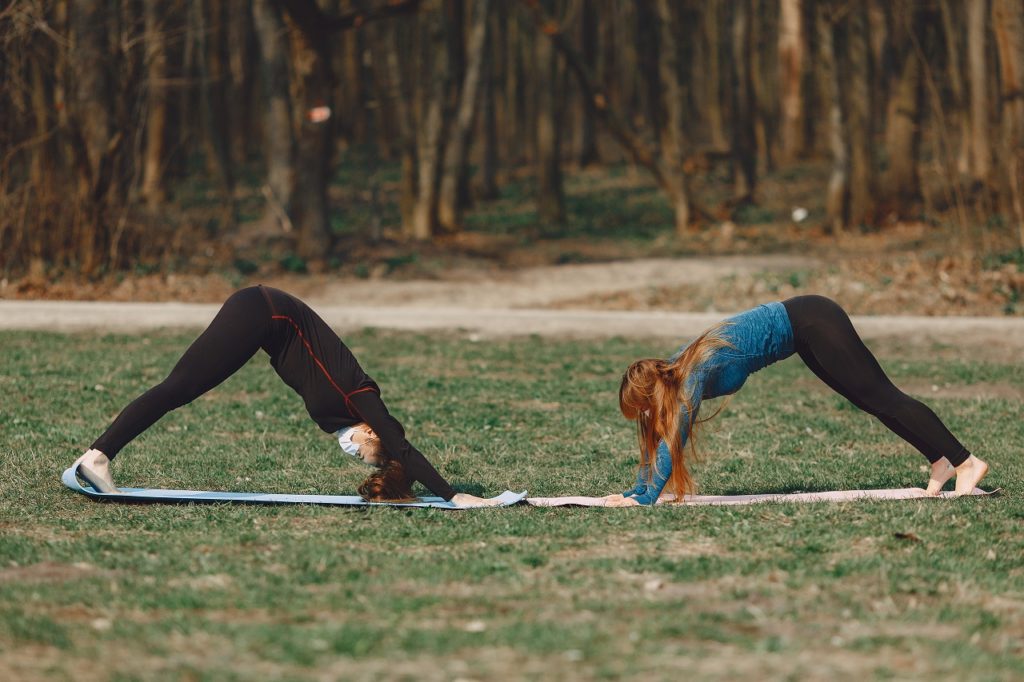 How to do Adho Mukha Svanasana?
You will need to come to your fours and form a table.
Now, exhale and lift your hips.
Keep your toes pointed straight ahead.
Your palms should be shoulder-width apart.
Look towards your naval.
Hold this position for a moment and take long breaths.
Now, return to your original position.
Repeat this pose five times.
2. Pavanamuktasana (Wind Easing Posture)
This pose will tone your abs and alleviate the pain in your lower spine. Pavanamuktasana will tone the buttocks and thighs, improving the abdomen's health and enhancing metabolism. It is an easy form of yoga to reduce belly fat.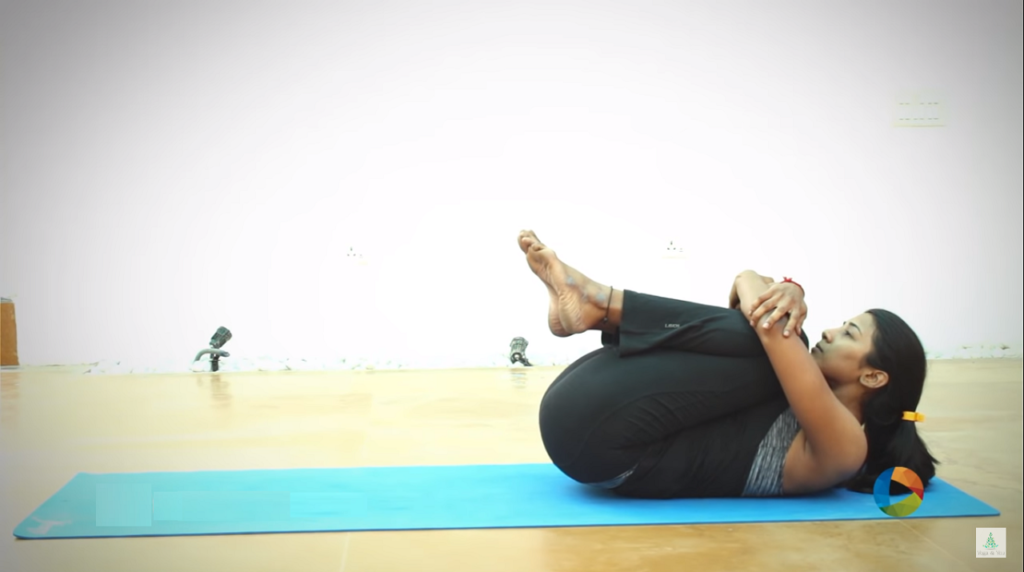 How to do Pavanamukthasana:
You want to lie on your back and keep your arms at your sides.
Stretch your legs out.
Hold your flexed legs with your hands and apply pressure in your tummy.
Breathe deeply and hold the pose for around 3 minutes.
Come into the original position.
Repeat this five times.
3. Tadasana (Mountain Pose)
Tadasana is the perfect warm-up pose. It enhances blood flow and triggers the heart and other peripheral locations, ensuring your body is prepared for the additional poses. I prefer doing it before any yoga to reduce belly fat more efficiently.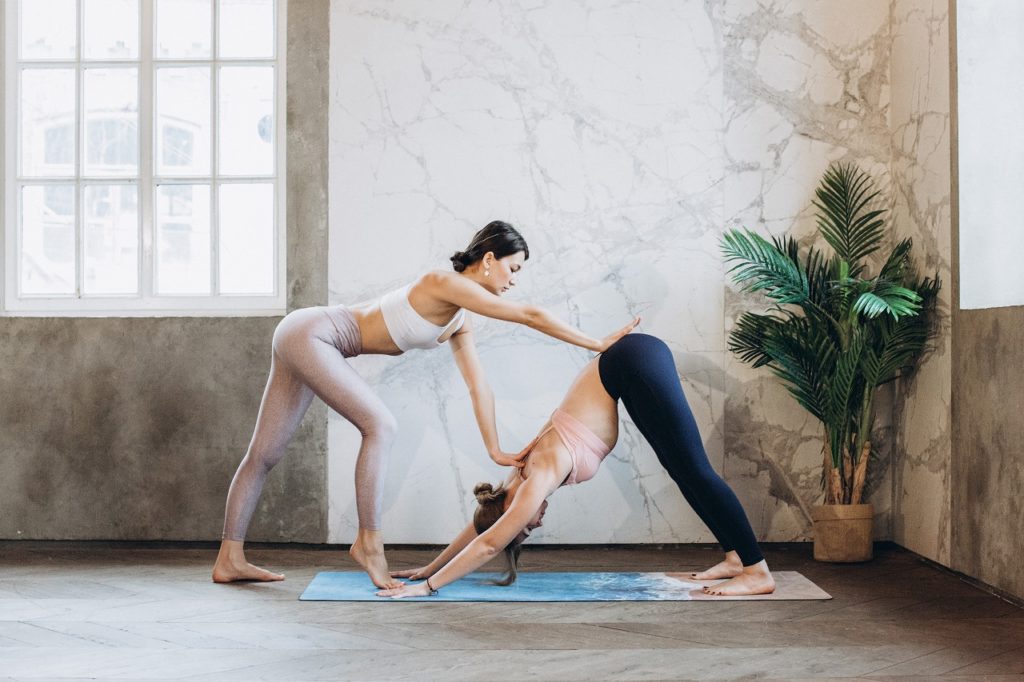 How to do Tadasana:
Keep the spine erect with palms on either side and palms facing the system.
Stretch your palms to the front and then bring the palms near one another. Raising your folded palms over the head, stretch as far as possible.
Try lifting your knees and positioning on your feet, together with the eyes facing the ceiling. If you can't stand on your feet, you can continue to keep your feet flat on the floor while looking at the ceiling.
Breathe generally, and maintain the pose for about 20 to 30 minutes.
Inhale deeply, and while twisting, gradually relax and pull your feet back into the ground.
Duplicate the asana ten instances, raising the count slowly. Relax for 10 minutes before you try another rep. The image provided is a variant for novices.
4. Surya Namaskar
Surya-namaskar is a confluence of a dozen yoga postures, all of which feature a significant effect on the full human anatomy. This is perhaps the best yoga to reduce belly fat.
The forwards and backward springs allow stretching, as the profound breathing conducted during the action can help in detox—exercise Surya-namaskar daily in the early morning, facing sunlight, to get the most benefits.
To use this yoga to reduce belly fat faster, do it twice or thrice and increase its frequency accordingly. Also, check your heartbeat and stamina as well. You might find a surprising result.
How to do Surya Namaskar:
Stand together with your toes together, extend your torso, and then relax your shoulders.
When you inhale, then lift your arms out of the sides. So that while you exhale, draw your arms into the front of one's torso and maintain them at the prayer position.
Inhale, lift your fingers, and elongate backward marginally.
Bending your left knee, stretch your leg back, together with your palms on the ground.
Out Of Adhomukha (downward dog), arriving at the ends of the feet, proceed forwards within an Ashtanga Namaskar (a sort of Chaturangadandasana), at which the buttocks are slightly raised and also take the full chest down to the ground.
Inhale, extend forwards, and bend backward into Urdhvamukha, or upwards-facing dog.
Maintaining the hands fixed on to the ground, proceed the chest to downward dog.
When you inhale, bring your best leg forwards between your elbows and elongate upward.
Stretch straight back from the midsection.
Come Back into the first position.
5. Paschimottanasana (Seated Forward Bend)
Paschimottanasana is among the basic poses of Hatha Yoga, and it stimulates the middle of your solar plexus. Along with acting as a stomach-toning posture, the forward bend also provides a decent amount of stretch to your hamstrings, thighs, buttocks, and hips.
It's also great for those who are likely to have digestive disorders. If you are a person who is new to asanas and using yoga to reduce belly fat, you must consider this form.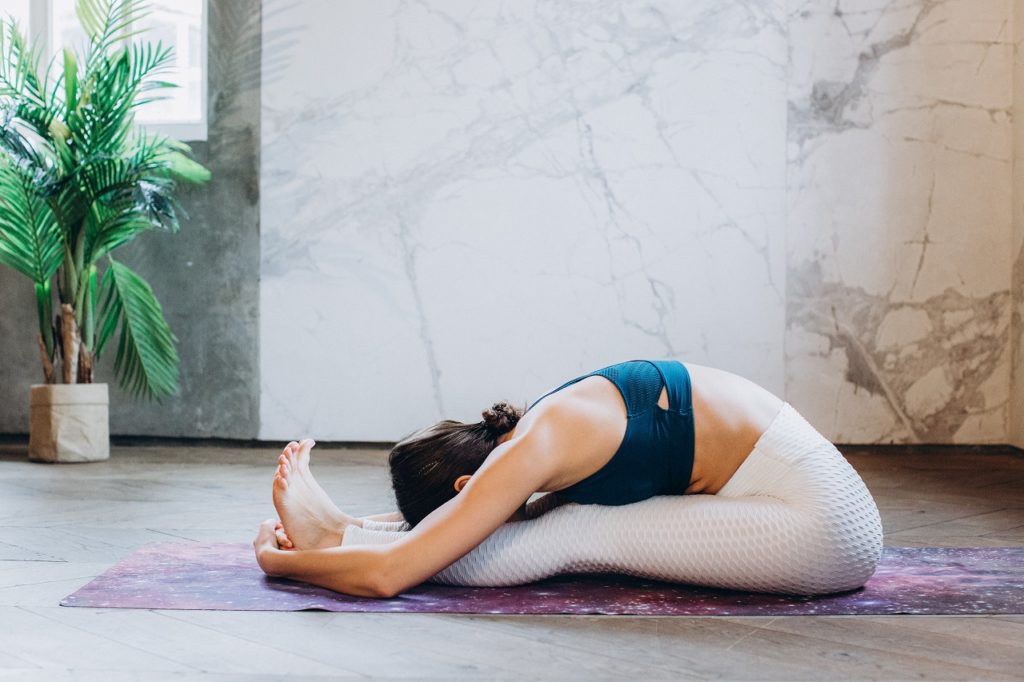 How to do Paschimottanasana:
Sit on the ground in Sukahasana or Padmasana.
Keep your spine vertical, and extend out your legs to your front. Your toes should point to the ceiling. Your gaze should follow your hands. Stretch your back to the max.
Exhale, bend forward, bring down your hands and attempt to touch your feet. Your head should rest on your knees. Beginners may try touching their legs, thighs, or shins as a starter.
When you touch your toes, maintain them and try pulling them back until you experience elongating on your knee.
Keeping your breath, try to retain the position for 60 to 90 seconds. Gradually, raise the period of holding the position for five minutes, or if possible, more.
Exhaling, deliver your system up, releasing your feet from your fingers to return to the Sukhasana or Padmasana pose.
These were our best picks of yoga to reduce belly fat. Along with these, you can also try practicing healthy food habits, also make sure to get enough sleep and not stress out too much, as these things contribute a lot to gaining weight.