Avoid Infections on Public Transport – Public transport has become essential to our daily life. Most people depend on public transport in one way or another because this is the most comfortable and quick medium to go from one place to another. It provides accessibility to millions of people to travel from one place to another. Still, as millions of people get in contact with public transport, there is an increased chance of viral infection as it becomes the breeding ground for various bacteria.
Read Also: How to Fight Depression: 7 Strategies from Recent Studies.
No matter how much you take precautions against the viral or infection, saving yourself from the infection from contact with these public transport becomes impossible. These can further result in various health risks as one can not predict the next person sitting with you or before you, like with which disease he was or is going through. So, there is a high chance that the bacteria from that person can contact your body and harm your health. So today, in this article, we will tell you some of the proven ways to avoid infections on public transport and keep yourself safe and healthy.
5 Ways to Avoid Infections on Public Transport.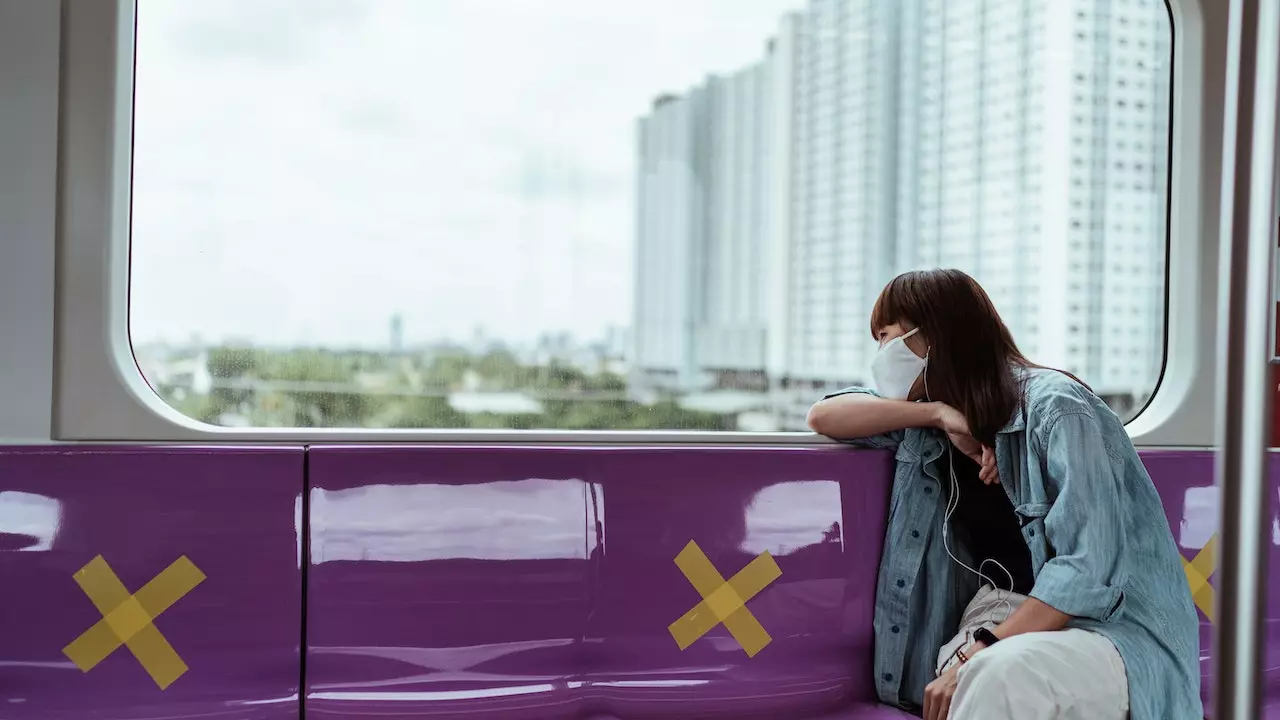 Wear a mask every time you step on a crowded bus or metro.​
Wearing a mask is one of the most effective ways to avoid transmitting respiratory bacteria while traveling on public transport. We have witnessed the results of wearing a mask during the COVID-19 pandemic, where every health expert has to suggest wearing a mask to avoid spreading the dangerous covid 19 virus. Wearing a mask during public transport helps contain your respiratory droplets and saves you from inhaling harmful bacteria. Remember, while wearing a mask, cover your mouth and nose and change your mask frequently.
Maintain physical distancing​
Another practical way to avoid infections on public transport is to maintain proper physical distance from others. Most public transport has been appropriately marked and designated proper distanced seats after the Covid 19 pandemic, so follow these and save yourself from being in contact with the infected people from bacteria. At least maintain a gap of 6 feet from other people to avoid bacterial transmission.
Use hand sanitizer​
One of the other precautions that you should take to avoid infections on public transport is to carry and use a hand sanitizer frequently. Whenever you go out for public transport, carry a small bottle of hand sanitizer; whenever you contact any door handles, handrails, or ticket machines, clean your hands with the sanitizer. Always clean your hands before touching your face, nose, or eyes to avoid contracting infectious bacteria.
​Avoid touching your face or mouth.​
Most people follow this common mistake of touching their face or mouth while traveling, which is the most common way to get in touch with infectious bacteria during public transport. So try avoiding touching your face or mouth during travel, but if you have urges for itching, use cotton or clean your hands with sanitizers before touching your face or mouth.
Avoid eating or drinking on the bus or metro.​
Some people have a habit of drinking cold drinks or eating something while traveling, but this is the most common mistake they make. This is an easy way to invite bacteria in your body. The public places are full of crowds and are an easy way of spreading infectious bacteria. So to avoid public transport infections, you should not eat or drink anything during your travel time.
Opt for contactless payment.​
You should also avoid cash payments as cash payments can also lead to the spreading of bacteria; instead, use cashless payment. Today, in the digital age, almost everyone accepts online payments. So, you should also opt for online payment and save yourself from contact with these infectious bacteria because they travel through millions of hands.
Do not travel by bus or metro if you are not well.​
One of the things you should consider is that it is okay to save yourself from contact with infectious bacteria, but if you are not feeling well, you should avoid traveling. This is the most common problem of people; even when sick, they still want to travel and indirectly spread bacteria to other people. So if you want to be safe, don't try to infect others and stay at your home, get medical help, and travel only when you are correctly well.
So these are the proven ways to avoid infections on public transport. The aim is not only to save yourself from any infection but not to spread infection if you have any. So follow these tips, maintain proper hygiene, and save yourself and others during public transport.
To get more of our exclusive content on Health Care and Lifestyle. Follow us on YouTube and Instagram.