Dust storm allergies are the allergic reactions triggered by pollutants available in dusty storms or exposure to airborne particles. These dust storms occur when strong winds carry a large amount of debris and dust to populated areas from arid areas. These dust storm allergies can impact one's health from mild to severe depending on their lifestyle and sensitivity to dust. These allergies can vary from person to person, depending on their body types. Here are some common health conditions that one can face due to these dust storms allergies such as Respiratory Issues, Eye Irritation, Allergic Rhinitis, and Skin reactions.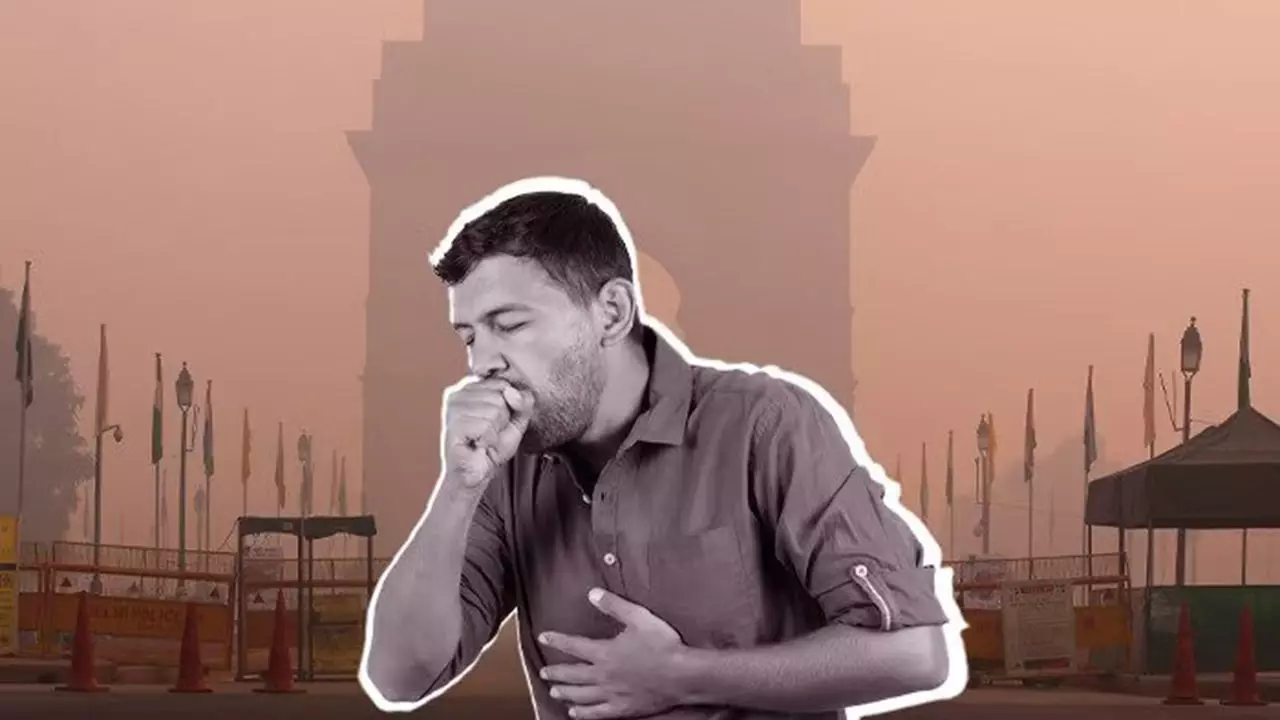 Read Also: The Science of Sleep Deprivation: How Long Can You Really Survive Without Sleep?
Suppose you are sensitive to dust storm and still has prolonged exposure to them. In that case, you can have severe health conditions as dust storms contain fine particles known as PM2.5, which can deepen into your lungs from the airways and enter your bloodstream, leading to exacerbating cardiovascular and respiratory conditions. So if you are sensitive to dust storms, you should read this article to the end because, in this article, we will tell you some proven home remedies which will provide you quick relief from these dust storm allergies.
Common symptoms experienced during dust storms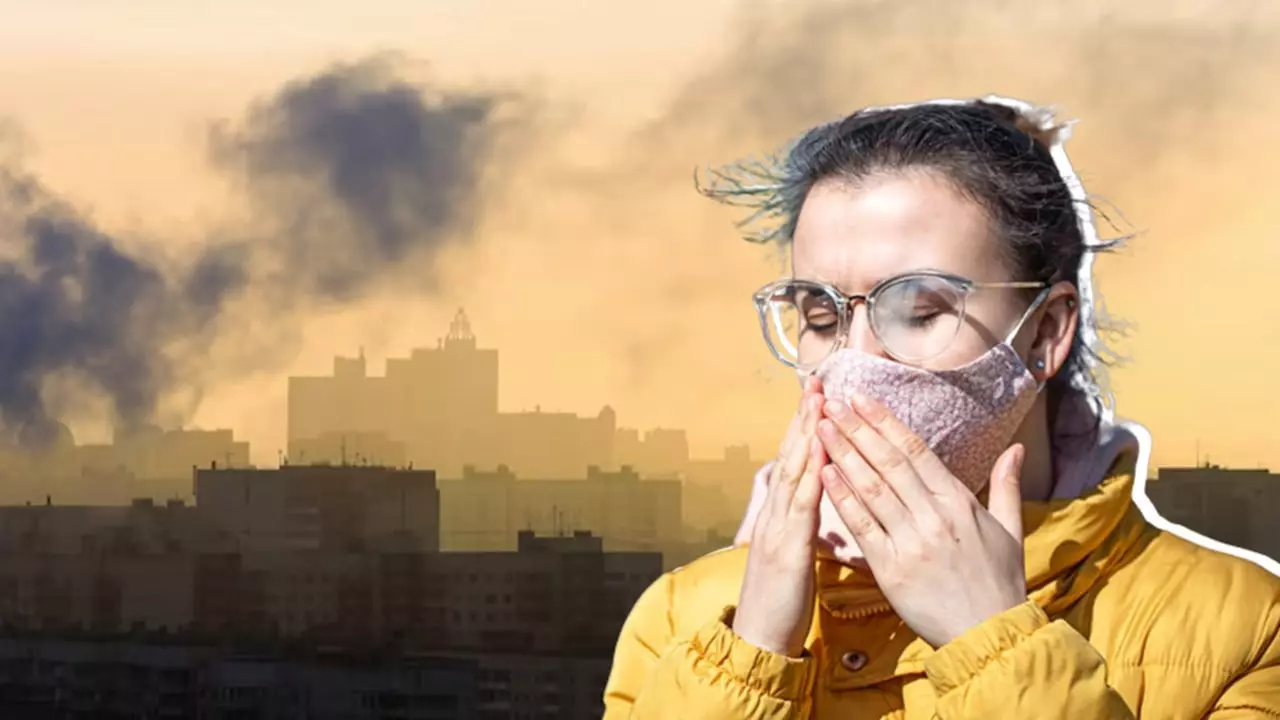 Respiratory Issues
Dust storm allergies can lead to Respiratory issues as dust particles can enter your respiratory system during nose airways and can lead to various irritations there, including coughing, shortness of breath, wheezing, and chest discomfort.
Nasal Congestion
Further, when you inhale dust particles due to the dust in the air, it can lead to problems of nasal congestion, runny nose, stuffiness, and sneezing.
Itchy or Watery Eyes
Particles from dust storms can also affect your eyes, as when they enter your eyes, they can lead your eyes to itchiness, watery eyes, redness, or a gritty sensation.
Sore Throat
Also, these dust particles can cause scratchy or sore throat issues when they enter your throat, thus irritating you and creating discomfort.
Headache & Fatigue
In some cases, one can also suffer from headaches and migraine-related problems when they come into contact with dusty storms. Also, prolonged exposure to dusty storms can lead to tiredness and fatigue.
Suppose you already have asthma, respiratory conditions, or allergies. Your condition can worsen with these dust storm allergies, so you should consult your health care expert for proper treatment.
Nasal Irrigation for Sinus Relief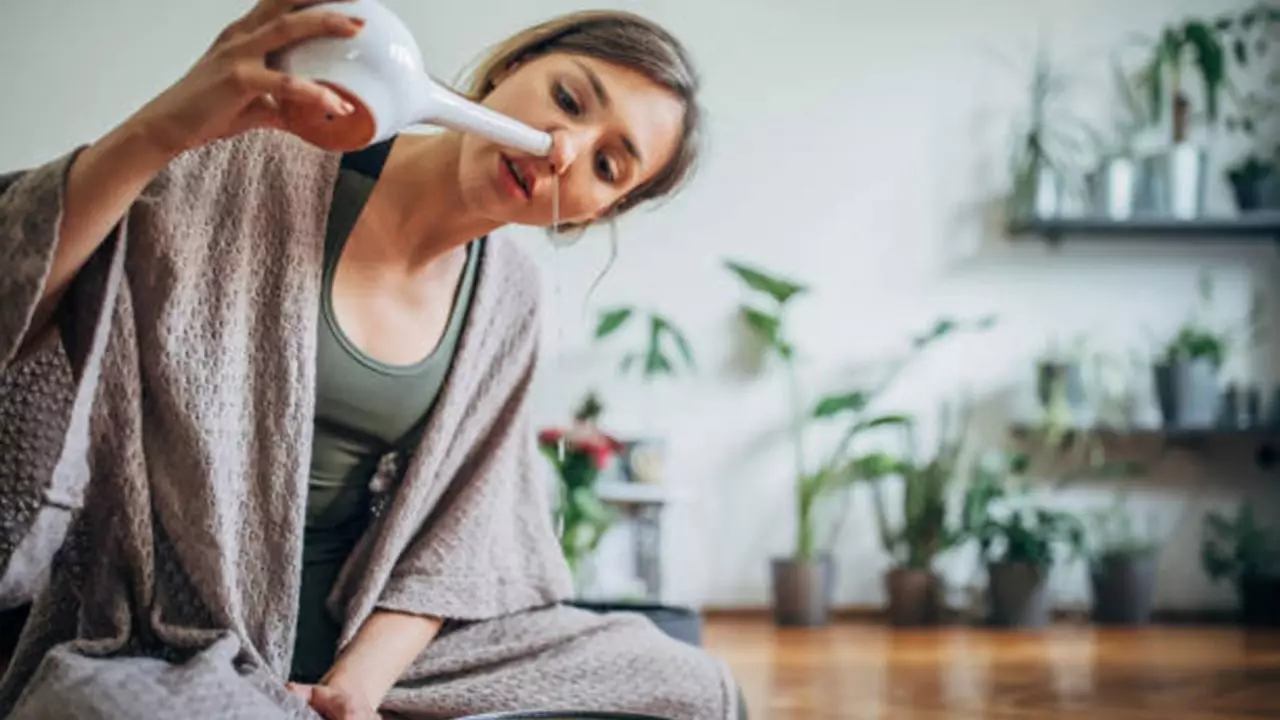 Nasal irrigation is one of the best home remedies, which helps in sinus relief and saves from dust storm allergies. Here is how you can perform it.
First, mix 1/4 to 1/2 teaspoon of non-iodized salt with 8 ounces of distilled or sterilized lukewarm water and make a saline solution. Water should be safe to use and clean.
Now tilt your head sideways over a basin to avoid any mess on the floor.
Keep your mouth open to breathe and pout the saline solution from one nostril using a neti pot or a nasal irrigation squeeze bottle,
Allow the solution to pass through one nostril and flow to another for an exit. It may be slightly uncomfortable for beginners, but you can become an expert with practice.
Now repeat the process with your second nostril.
Blow your nose gently at the end to remove any extra solution left in your nostrils.
This Nasal irrigation technique will help you through any irritants, allergens, or mucus available in your nasal passage. This will also provide you relief from any congestion or sinus pressure because of dust storm allergies. You can perform this nasal irrigation technique twice daily, depending on your requirements. But always clean your nasal irrigation bottle with clean water, and at the start, take the help of some expert to avoid anything wrong.
Steam Inhalation to Ease Respiratory Symptoms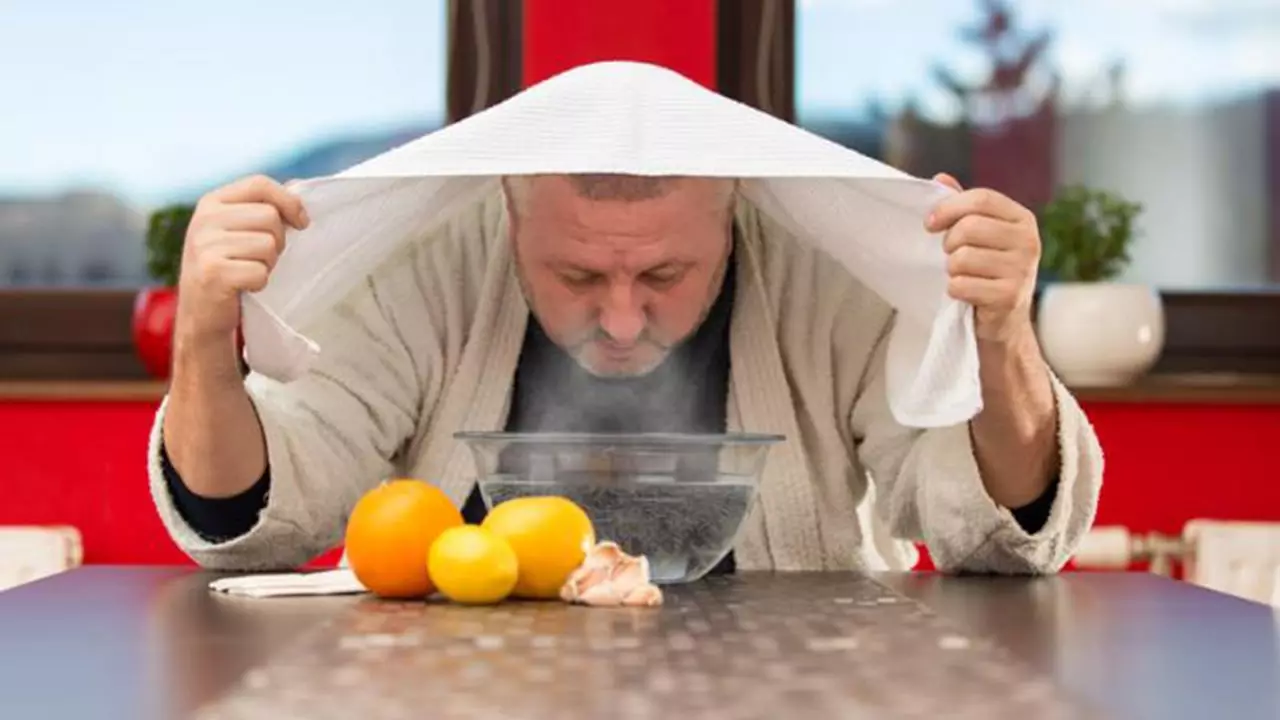 Steam inhalation is one of the best home remedies to ease respiratory symptoms due to dust storm allergies. In this process, one has to inhale the moist and warm air as it will help to soothe the respiratory passages. Further, it helps by relieving congestion, reducing nose and throat irritation, and clearing mucus. To perform this steam inhalation to get relief from dust storm allergies, here are the steps
Boil a pot of water and let it cool down for some minutes.
Now add that water into a bowl.
Eucalyptus, tea tree, or peppermint oil can enhance the steaming process.
Now place a towel above your head, as shown in the picture, before starting the process.
Make a comfortable distance from the bowl to avoid any skin heat.
Now start the process by inhaling profoundly with your nose and exhaling through your mouth.
Repeat this process for 10-15 minutes.
Take care of one thing not go too close to the hot water. And after the steam inhalation process, refresh yourself by rinsing your face with lukewarm water.
Steam inhalation exercise helps alleviate nasal congestion and sinus pressure due to dust storm allergies. It also provides relief from irritation and inflammation in the nasal passage or airways.
Honey and Ginger Tea for Soothing Throat Irritation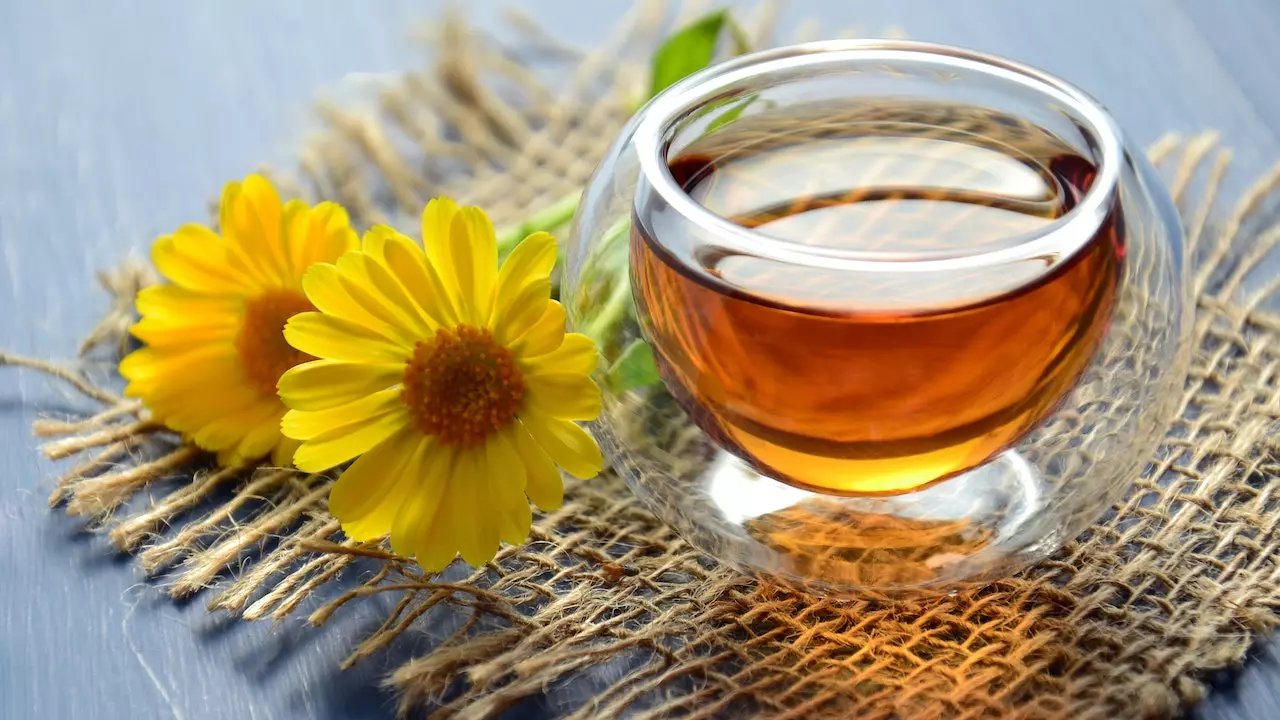 Honey and ginger tea is the best home remedy to soothe the sore threat-related irritation from dust storm allergies. Ginger and honey contain natural healing properties and thus help relieve and comfort a sore throat.
Honey forms a protective coating, reducing throat irritation and providing short-term relief from coughing. Honey also contains an antimicrobial, which helps fight off any infection in the throat, thus helping in soothing the sore throat. On the other hand, ginger contains anti-inflammatory properties, which help reduce the inflammation in the throat due to allergies, and it also provides a warming sensation and comfort to the throat.
Other Home Remedies to Get Quick Relief from Dust Storm Allergies.
Saline Gargles for Relieving Sore Throat
Healthy Diet and Hydration for Strengthening the Immune System.
So these are some proven home remedies that can quickly relieve dust storm allergies. But if you have been facing these allergies for a long time of period. You should consult your healthcare expert immediately to prevent any serious health issues.
Found this article interesting? Follow us on YouTube and Instagram to read more exclusive content we post.